Happy Workplace
China Airlines is dedicated to establishing a caring and protective enterprise. Through providing employees with total care and support, enhancing employees professional competence, enforcing mutual communication between CAL and employees, building a safe working environment, we provide employees with a happy workplace and an enjoyable lifestyle.
Employee Development
CAL emphasizes on the development of employees and ensures the training courses enhance their skills. CAL also improves the competencies of the Company's managers at various supervisory levels, and cultivate managerial capabilities and perspectives among personnel with potential for advancement.
Sound Training System and Framework
CAL has established a sound training system and framework to develop aviation professionals. We adopt diversified training methods, including on-site and online training courses, invest in training hardware and software. CAL values the functional development of employees and integrates fundamental aviation training with hands-on practice. In addition, CAL organizes business strategy and management related training for all managerial levels and employees with potential on a regular basis to improve their horizons and expertise.
Based on the demand of education and training, the Training Advisory Committee has been established to plan annual education and training activities for all employees. The primary strategic goal of CAL's training and development program is to enhance employees' job skills. Adopting the training framework of China Airlines Lecture Hall, CAL ensures that all employees are equipped with skills to perform their duties and job functions.
CAL as established the Talent Development Committee, chaired by the President, with senior vice presidents serving as members. The Talent Development Committee is responsible for regularly reviewing and improving training for potential talents. Each department refers potential talents to the Talent Development Committee, which then determines their qualifications and development paths. During training, potential talents are provided with appropriate job rotations and management skill training to build their management capacity and experience. In addition to the annual talent recommendations, CAL also selects talents from different levels and sets up management improvement courses and management training courses. CAL provides two-year courses based on the ranks of the employees to continue to enhance their management skills. CAL has always sought out and successfully trained many potential talents to serve as unit chiefs both at home and abroad. CAL will continue to provide them with opportunities to develop their careers, in hopes of achieving corporate sustainability.
In 2021, CAL invested about TWD 190 million in employee training and development (the average amount was approximately TWD 16,400). The total number of training hours (including onsite and online courses) totaled approximately 354,000 (the average number of hours per employee was approximately 30.50 hours), and the completion rate of training reached 99.30%.
Employee Development Programs in 2021
Employee Development Program
Business Benefits
Quantitative Impact of Business Benefits
Proportion to Total Employees Participation in the Program

Strengthen Passenger Services:

Cabin crew service training: Strengthen operation safety and passenger service skills during the pandemic
(Training investment: around TWD 1.05 million)

Improve operational safety and service quality to increase passenger satisfaction and willingness to fly with us again
Increased cabin crew satisfaction rate by 2.8% in 2021 compared to 2020
24.0%

Training for increasing Cargo Revenue:

Strengthen cargo operation personnel's related cargo transport professional knowledge
Increase the number of flight crew members for cargo aircrafts
(Training investment: around TWD 49.52 million)

Enhance cargo marketing effectiveness and fleet capacity to increase revenue from cargo aircrafts
Cargo aircraft revenue for 2021 increased by TWD 32.301 billion compared to 2020
3.2%
Sound Internal Recruitment and Rotation System
CAL is committed to upholding the principle of assigning each staff member to a proper position. We offer regular job rotations and internal training courses to improve our employees' job skills and overall productivity. Each department determines whether to rotate employees, based on their labor needs; in addition, we have established an internal recruitment system, so that employees can participate in the selection processes in accordance with their wishes and ambitions. This allows CAL to utilize its human resources in a flexible manner and ensures that employees are assigned to the most proper positions, resulting in a win-win situation for both parties. The internal vacancy replacement rate this year was 31.86% (Due to coping with the heavy impact of COVID-19, CAL had adjusted business strategy, which affected the percentage of open positions filled by internal candidates).
To utilize management with flexibility and to ensure that they are assigned to the most proper positions with improved competency, CAL conducts a management review and rotation evaluation on a regular basis. Managers working in domestic departments and outstations or joint venture companies for three years will be included in the management review and rotation evaluation based on relevant regulations.
Industry-Academia Collaboration
CAL has promoted its campus talent development program since 2013 by taking advantage of its abundant practical experience and sound aviation training facilities and courses. In response to the government's policy on industry-academia collaboration and talent development, CAL has cooperated with colleges and universities nationwide to offer internship programs that last for six months to one year in variety fields. CAL also offers interns scholarships and allowances and arranges training courses for them. To start an internship, interns are required to pass the training courses first. In 2021, for the eleventh consecutive year since 2011, CAL was awarded as a Top 20 Youngsters' Favorite Brand by Cheers magazine. Through industry-academia collaboration, CAL will continue to provide students with opportunities to gain aviation expertise and make their career plans, and thus help CAL recruit potential talents.
As a result of the pandemic in 2021 and as most sites for internships are located in the vicinity of airport operations, CAL only accepted two interns for education technology and visual design (National Taipei University of Education and Tamkang University) in 2021 due to safety concerns. We will restore operations based on changes in the pandemic.
Declaration for Joining "TALENT in Taiwan"
To strengthen the competitiveness of talents in Taiwanese society, fulfill ESG corporate responsibility, and support the talents with global companies, CAL joined "TALENT in Taiwan" on February 16, 2022 to jointly promote sustainable talent development with "CommonWealth Learning", "Cheers", and 100 companies in Taiwan. We hope to use the project of hope for talent development to develop every worker, strengthen their professional skills, and create better career development and a brighter future.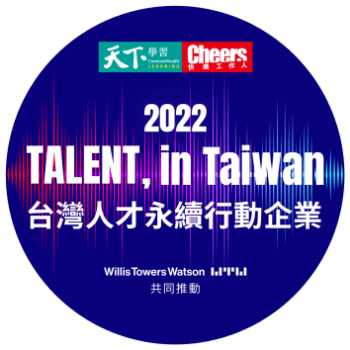 Declaration for Joining "TALENT in Taiwan"
Employee Rights
CAL attaches great importance to the opinions and well-being of our employees. In addition to regular reviews of employees' salary and benefit and labor-management meetings, CAL has established a number of communication channels and activities to enhance cohesion. CAL also respects the independence of labor unions in accordance with the law and promotes positive communication with labor unions.
Salary and Benefits
CAL firmly believes that employees are the most valuable assets and that it is important to protect both employee benefits and shareholders' equity. For these reasons, CAL provides competitive salaries and benefits for all employees. The salary and benefit package of each employee will not differ according to gender, race, religion, political affiliation, or marital status. Whenever the minimum wage of a particular global location is raised, we promptly review our salary standards and make necessary adjustments in a timely manner. In 2022, CAL's average salary increase will be no less than 4%. Employees who are required to work overtime due to the nature of their employment will receive reasonable overtime pay in accordance with regulations. No employee shall be forced to work against his or her will.
Male / Female Salary Ratio of CAL Group in 2021 (Female Salary is 1)