Philanthropy
The world continued to be plagued by the COVID-19 pandemic in 2021. CAL cooperated with several pandemic prevention regulations of the government and reduced the number of events that involve crowds of people to reduce contact risks. However, CAL continued to support the three major sustainable development strategies of "Enhancing the Internationalization of Local Education", "Increasing the International Visibility of Local Brands", and "Empowering the Disadvantaged to Gain Equal Social Opportunities", and continued actions to support the United Nations SDG3, SDG4, and SDG8 goals. We organized charity events from disadvantaged groups in remote rural areas, aviation knowledge education, and transportation of medical supplies. We also donated supplies to medical and police personnel on the front line to thank them for their steadfast commitment to the lines of defense in pandemic prevention and created a positive cycle in the society.
Humanitarian Relief
COVID-19 continued to devastate global industries and economies in 2021. As a major global air cargo carrier, CAL was responsible for the transportation of epidemic prevention supplies and emergency medical supplies during the epidemic. It has, on numerous occasions, shipped COVID-19 vaccines from Europe, United States, and Asia to Taiwan, and has also played a key role in international vaccine distribution with its flight networks to help transport vaccines purchased by other countries from Taiwan to their destinations. In 2021, CAL transported 2 sets of negative pressure isolation rooms produced in Japan, totaling 30 tons; CAL transported approximately 75 million doses of COVID-19 vaccines, totaling 350 tons.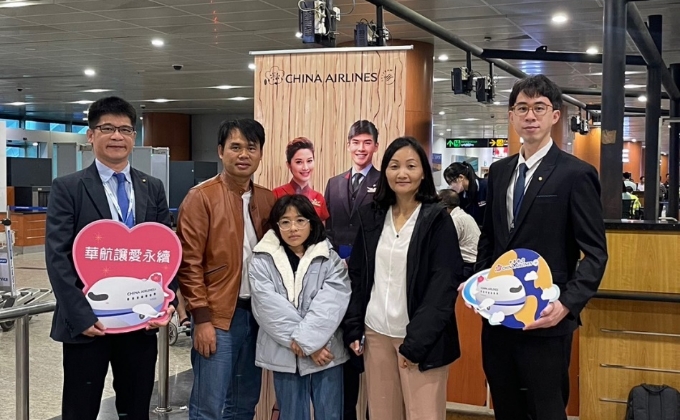 Unloading of Negative Pressure Isolation Rooms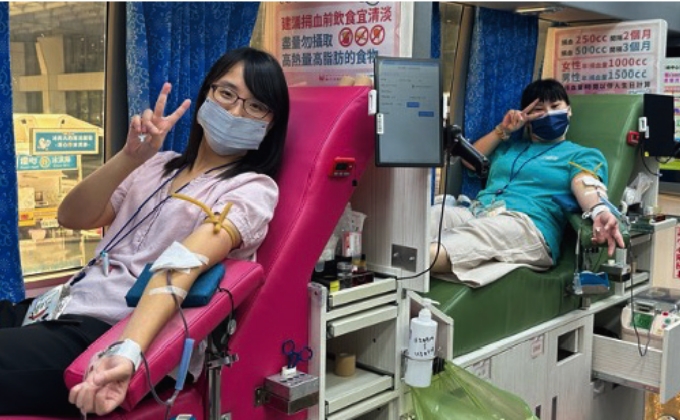 CAL Accepted the Honor of Transporting 1.5 Million Moderna Vaccines Gifted by the United States to Taiwan
Caring for the Disadvantaged
The epidemic this year has exerted more significant impact on disadvantaged groups. To reduce inequality in society, CAL continued to participate in social welfare initiatives for disadvantaged groups despite unprecedented difficulties in business operations. We seek to fulfill our responsibilities as corporate citizens, use real actions to help disadvantaged groups in society improve their quality of life, and focus on fulfilling our commitment to achieve equality and social welfare.

Caring for the Disadvantaged
Disadvantaged students, senior and members
of the general public
138,091
Number of Beneficiaries
304,553
Amount Invested (TWD)
Charity mask sales
75
Number of Beneficiaries
2,000,000
Amount Invested (TWD)
Pingtung Startup Happiness Bus 2.0
9,614
Number of Beneficiaries
1,500,000
Amount Invested (TWD)
Sister Tong Shan Charity Association
300
Number of Beneficiaries
1,000,000
Amount Invested (TWD)
Disadvantaged Students and Communities
As the members of the "Love All Around Team", a CAL volunteers' group, consist mostly of cabin crew, they did not visit remote rural areas to provide care to children this year due to the pandemic. "Remote Rural Efforts", another volunteer group that consisted of employees in CAL office, continued to spread love by venturing into remote rural areas. They visited schools in remote areas of Taiwan each year to communicate professional aviation knowledge and organized 10 courses in remote areas in 2021, which benefited 704 children. CAL ground service employees also launched a "Step 30" event and collected more than 200 pairs of shoes in just three days. They were donated to the Step 30 International Ministries to provide disadvantaged children with the opportunity to run free.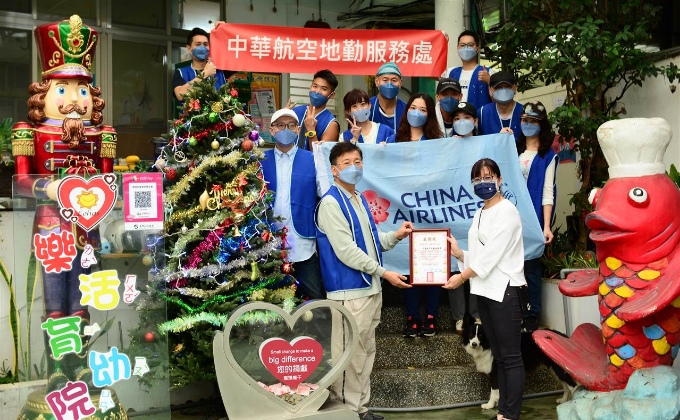 Group Photo of the Remote Rural Efforts Team in Yu Dong Junior High School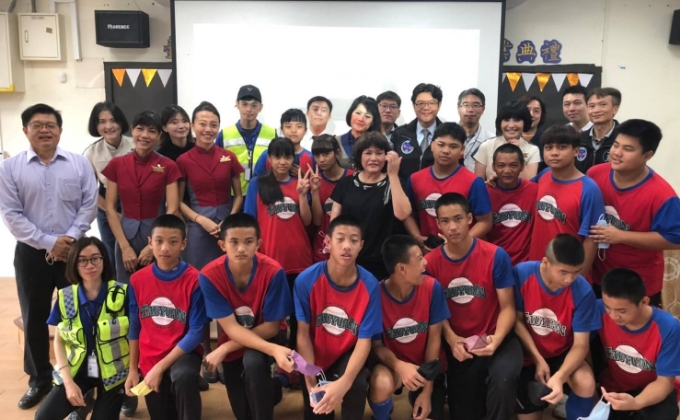 Ground Services Division Launched a Shoe Donation Event and Collected More Than 200 Pairs of Shoes in Three Days
Communicating Love to the Local Community
In 2021, CAL donated TWD 1 million to the Taoyuan City Sister Tong Shan Charity Association to take care of the disadvantaged and economically challenged families in Taoyuan to take real actions and support the society and community CAL also organized charity mask sales and invited employees to purchase masks with special designs and donated TWD 2 million in the revenue to local associations that support the disadvantaged. CAL upholds the spirit of spreading love and takes real actions to help disadvantaged groups in society improve their quality of life and fulfill our commitment to achieve equality and social welfare.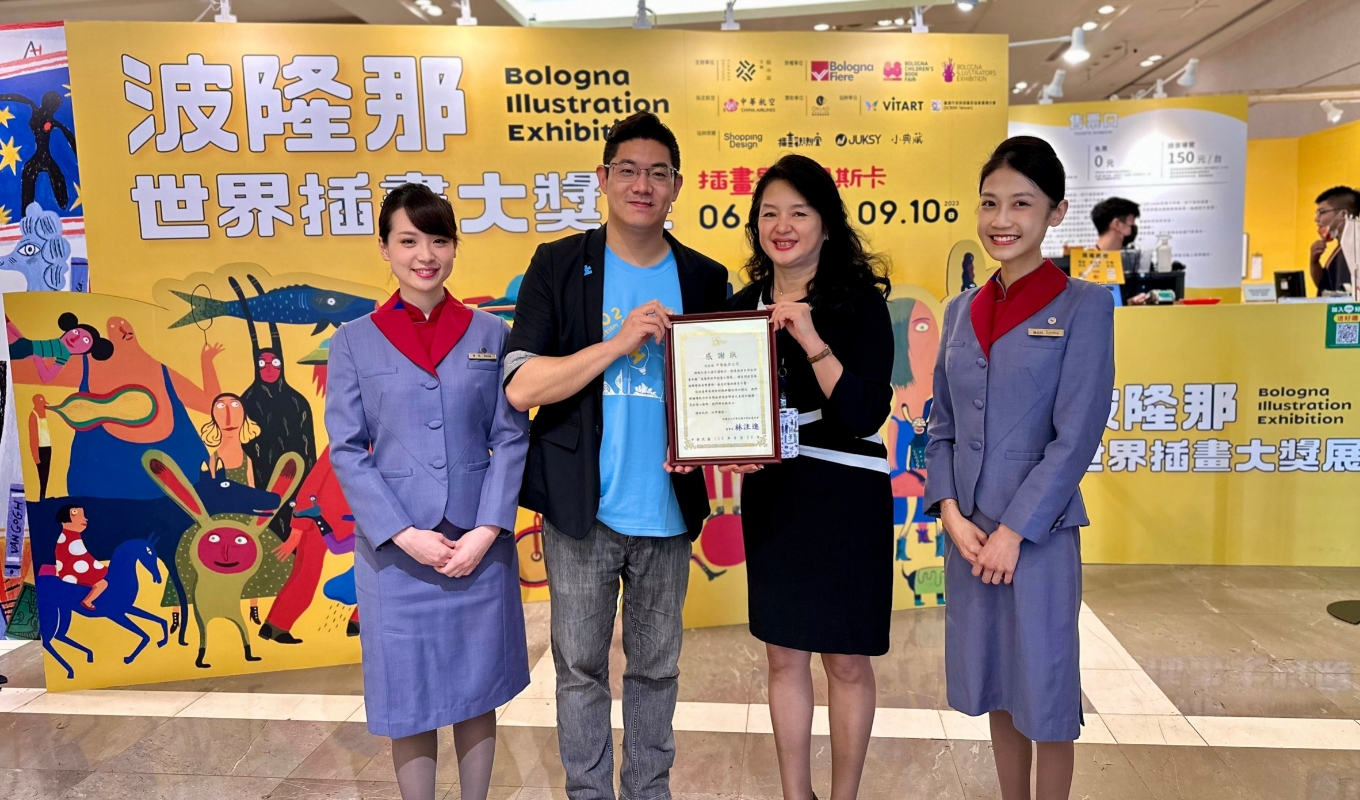 Certificate of Gratitude Presented by the Sister Tong Shan Charity Association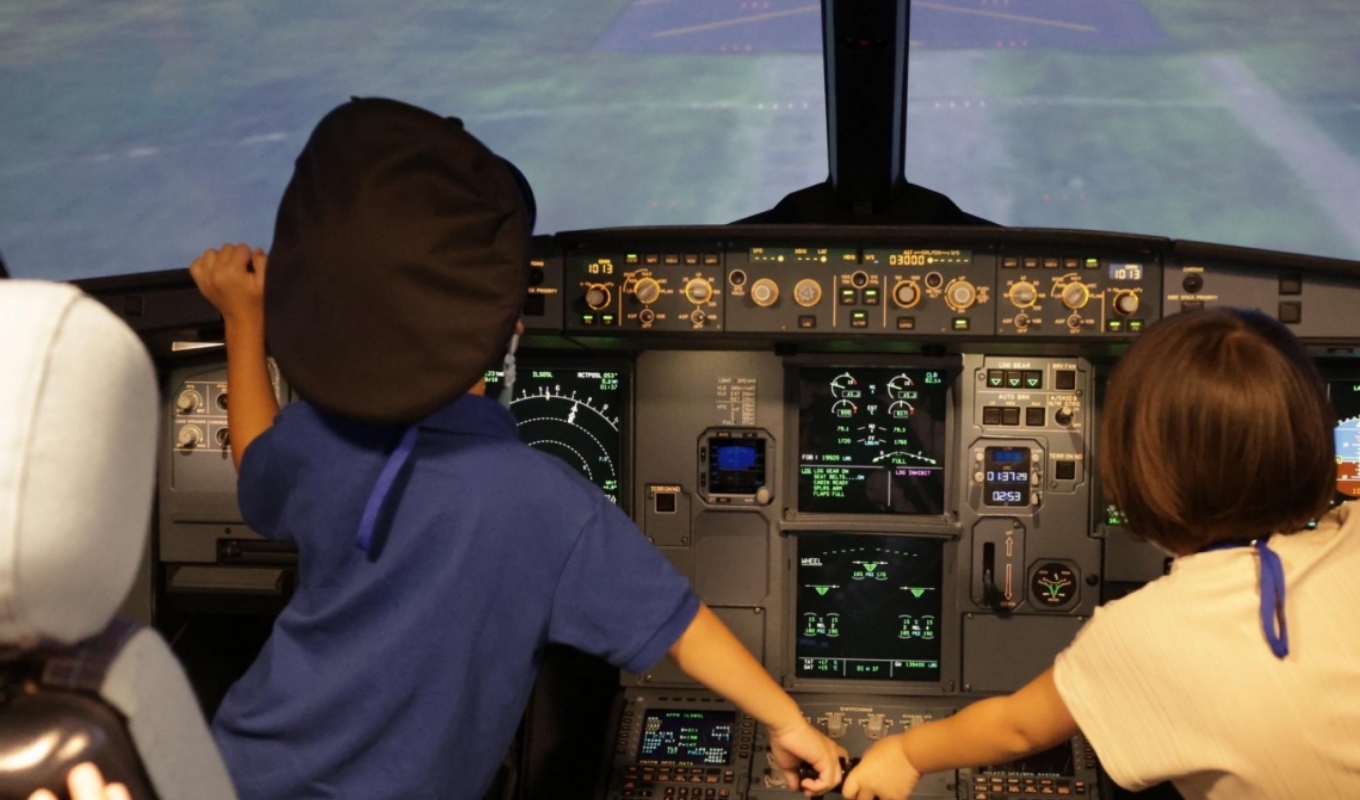 All Employees Were Invited to Support the Charity Mask Sales
Support Tribal Culture on the International Stage
Puzangalan Children's Choir is known as the "Most Beautiful Voice in Taiwan". It is composed of a group of Paiwan children from elementary school to senior high school. They have been invited to perform in numerous large-scale domestic and foreign music festivals and are known. Tigerair Taiwan organized a single-trip charity flight from Kaohsiung to Songshan with a flash mob performance at the waiting room in Taipei Songshan Airport in 2020. It organized another similar event in 2021 and invited Puzangalan Children's Choir to record original songs in the studio. Tigerair Taiwan received the delivery of its first A320neo in April 2021. With the speaker system equipped on the new aircraft, CAL plays the original songs when passengers board. The music will be a pleasant surprise for wishing passengers well on their journey and can help more domestic and foreign visitors learn more about the beautiful voices from Taiwan.
Mandarin Airlines sponsored the Green Ark Holistic Care Association's charity dinner party to support their care for tribes in remote rural areas and donated aircraft models and gifts.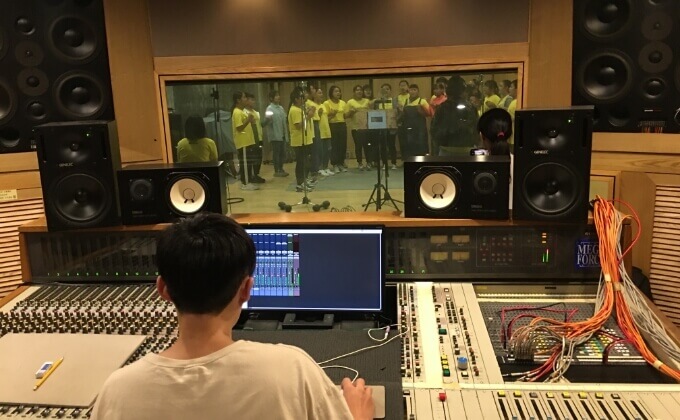 Puzangalan Children's Choir Records Tigerair Taiwan's Cabin Music in the Studio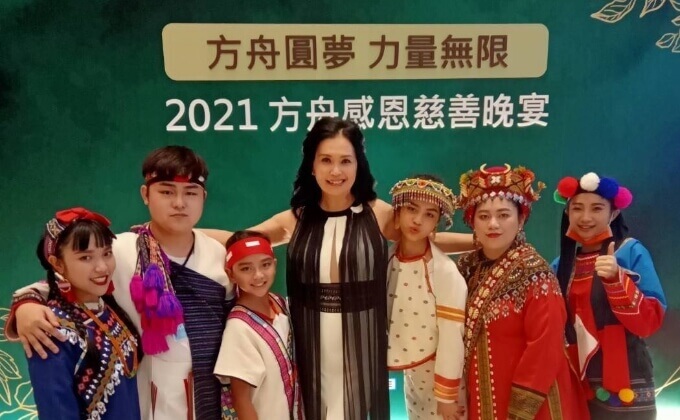 Green Ark Holistic Care Association's Charity Dinner Party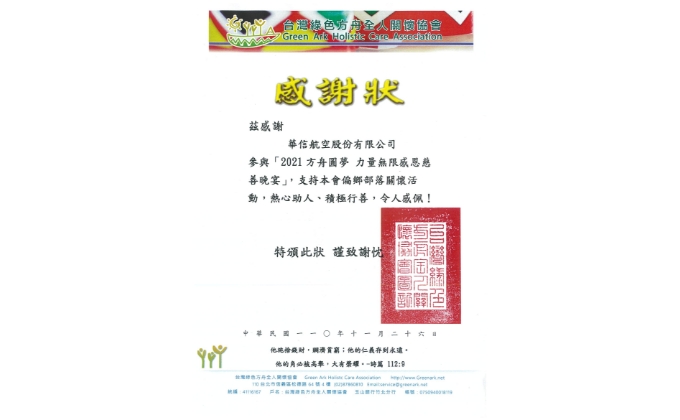 Certificate of Gratitude
Senior Citizens
CAL continued its partnership with the Huashan Social Welfare Foundation and regularly provides care to disadvantaged elderly people (disability, loss of support, or dementia) living in Taoyuan on the three Chinese festivals. The Foundation organized three charity activities this year including the "Love the Elderly and Love Team Members", "Love the Elderly by Exercising", and "Love the Elderly by Lighting up Mid-Autumn Festival". CAL continued to sponsor charity initiatives despite the pandemic and has provided care to 360 elderly people through social services of the Foundation.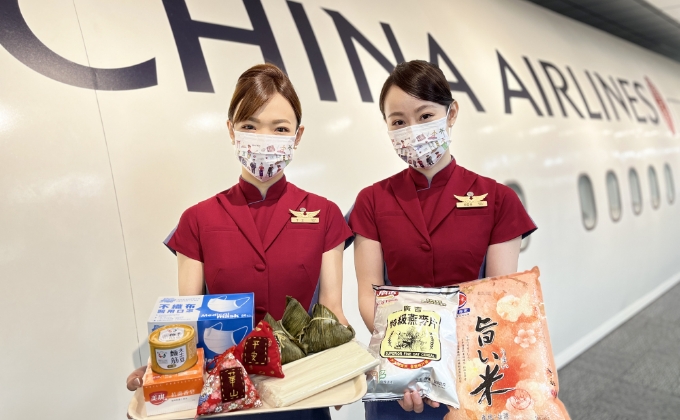 CAL Volunteers Club Provides Pandemic Prevention Gifts to Elderly Who Live Alone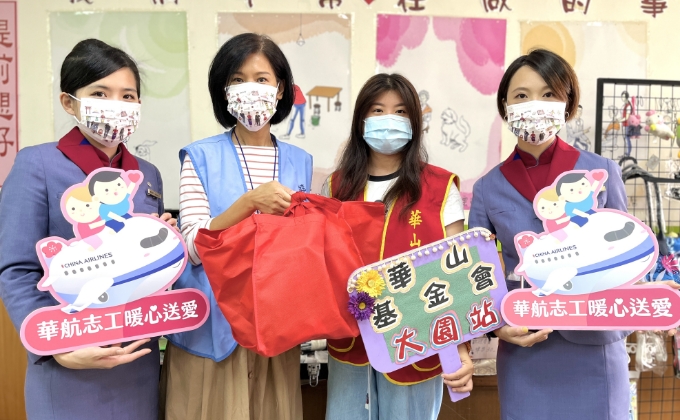 Huashan Social Welfare Foundation Volunteers Present CAL's Gifts to the Elderly
Pingtung Startup Happiness Bus 2.0
In 2021, the "Pingtung Startup Happiness Bus 2.0 Integrated Service Pilot Program" was continued in 2021 to improve the quality of public transportation in remote areas while improving social welfare for the elderly and students for seeking medical services and going to school. CAL donated TWD 1.5 million to the transportation fund of Pingtung County Government for the townships in the pilot program. Approximately 9,614 people benefited from the program in 2021.

The Happiness Bus Delivered Elderly Residents to Vaccination Sites in Manzhou Township, Pingtung (Source: Pingtung County Government)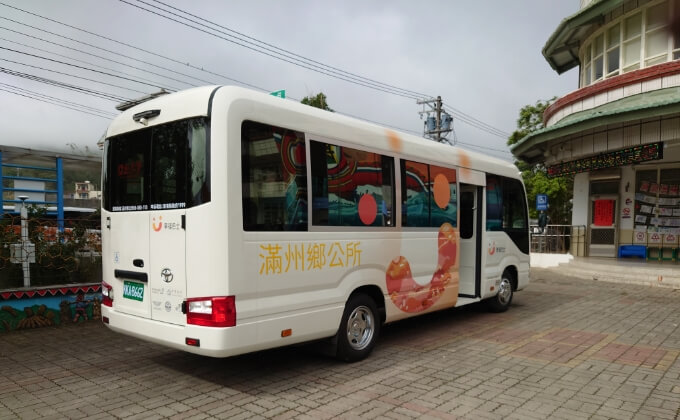 Happiness Bus in Manzhou Township, Pingtung (Source: Pingtung County Government)