Energy-efficient Aircraft
CAL actively introduces passenger aircrafts such as A350-900, B777-300ER, A321neo and B777F freighter, and combines the newest energy-saving aviation technologies and green design concepts and elements. Taking into account the needs of passenger activities and crew cabin service on board, the aircrafts are equipped with optimized light and temperature control mechanisms, lightweight materials, and energy - saving equipment to provide passengers a comfortable and ergonomic flight experience.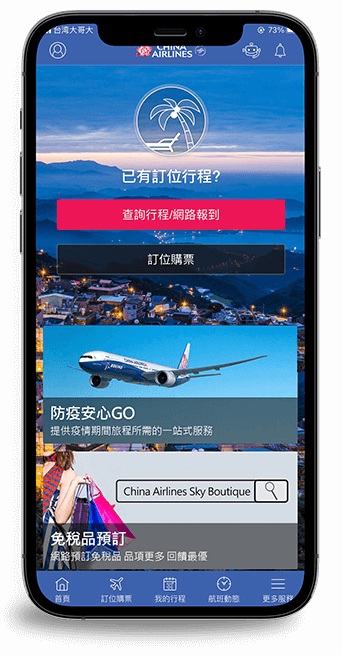 Ticket Service
The new-generation CAL APP features a passenger-convenience oriented design and provides 14 full services, such as online reservation, ticket purchase, check-in, seat selection, meal selection, robot customer service, and CAL Dynasty Sky Reading Service. The electronic boarding pass is adopted to reduce paper use.
Airport Services
Through procuring large-sized bottled beverages, local food ingredients, implementing waste classification and recycling, and strengthening the improvement of energy-saving lighting and energy management, CAL oversees VIP service quality and environmental loads.
Strict Controls over Water Quality on Aircraft
CAL has laid out drinking water treatment processes, adopted controls for pre- and post-flight water refill and disinfection processes to protect the quality of drinking water and prevent resource wastage.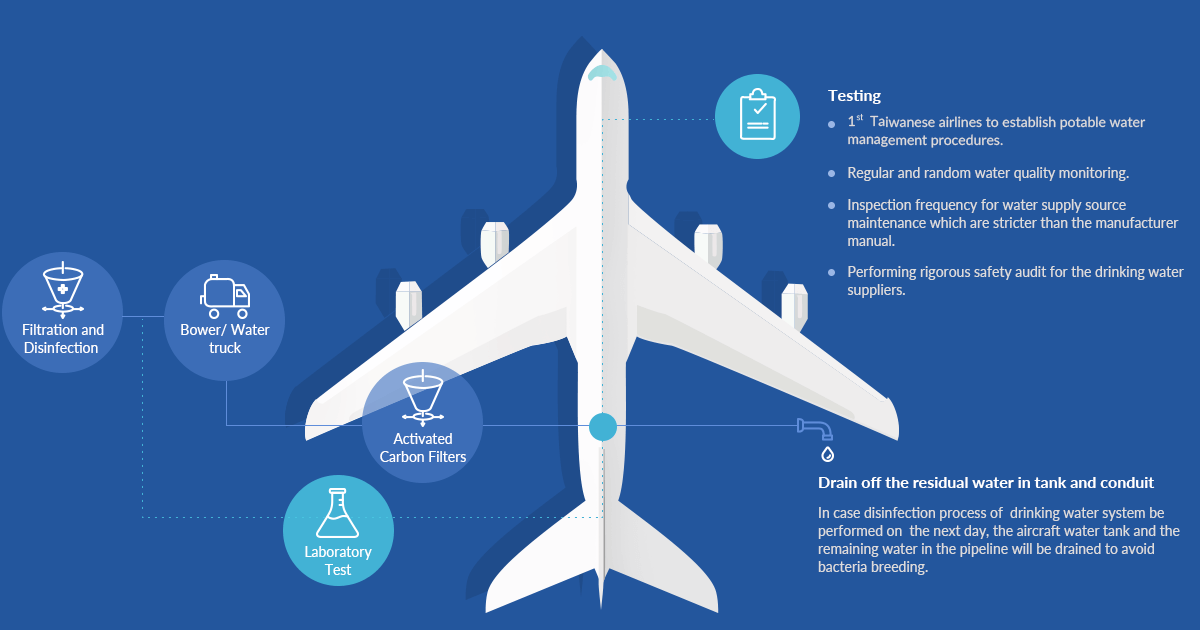 Before water refilling:
Strictly select qualified ground handling agents to perform aircraft water filling operations. The water samples shall be sent to go through multiple filtration equipment and chlorination to guarantee good quality.
Water samples shall be sent regularly to qualified laboratory for inspection to ensure compliance with national drinking water standards.
For stations with high risk of water supply, the aircraft refilling will be conducted in previous station with qualified water standard, or mineral bottled water will be used.
Water supply procedure
In a period of refilling, added extra cartridge depending on the operational risks; Activated Carbon Filters were added in the outlet of potable water equipment in the aircraft.
Supervise the quality of water supply service strictly to ensure the water supply source meets the standards.
Analyze and manage the water consumption of outstations, and reduce unnecessary waste of water resources by appropriately controlling the water supply , thus reducing water consumption, fuel consumption and carbon emissions.
Potable water self-testing and disinfecting of aircraft potable water system:
Ahead of other Taiwan's airlines incorporate environmental management system to water management and audit plan; Regular and random water quality monitoring, water inspection shall be carried out by qualified laboratory.
Inspection frequency for disinfect tank and replace filter which are stricter than the manufacturer manual.
If the aircraft has on overnight stop in outstations, the aircraft water tank and the remaining water in the pipeline will be drained to avoid bacteria breeding.
Perform regular and random water quality monitoring and inspecting every year. If abnormal conditions happened (e.g. water with impurity, polluted water), on-board water supply will be stopped immediately, disinfection operations will be conducted and water samples will be sent for analysis and inspection to ensure the water quality meets national standards.
Passenger Services Waste Management
As waste management of air services involves a wide range of service businesses, CAL has further formed a Passenger Service Waste Task Force in 2019, inviting services, supplies, planning, and quality assurance units, as well as supplier partners in catering and cabin cleaning, to establish a regular communication platform to study international trends of Passenger Services Waste Management and discuss relevant strategies. The Waste Task Force is responsible for three major aspects of waste management, namely, green design, waste reduction, and communication with passengers, with a view to utilizing resources properly, reducing waste and external environmental costs and mid-to-long term compliance risks for air services.
Waste Management Principles
Major Aspects of Promotion
Promotional Measures
Refuse
Green design

Promote and implement electronic operation
Increase the proportion of green / environment-friendly products
Worked with suppliers to reduce use of plastic and single-use plastics (SUP)

Reduce
Waste reduction

Promote weighing of actual waste on return flights to Taiwan
Set waste reduction and management targets
Supply chain resource management

Reuse
Communication with passengers

Encourage passengers to bring their own personal belongings, such as earphones and reusable food ware
Reuse inflight products under high flight and food safety standards, as well as avoiding and reducing use of SUP
Promote environmental protection initiatives, such as the "Chopsticks for Home" campaign, etc.
The Flow of Cabin Waste Handling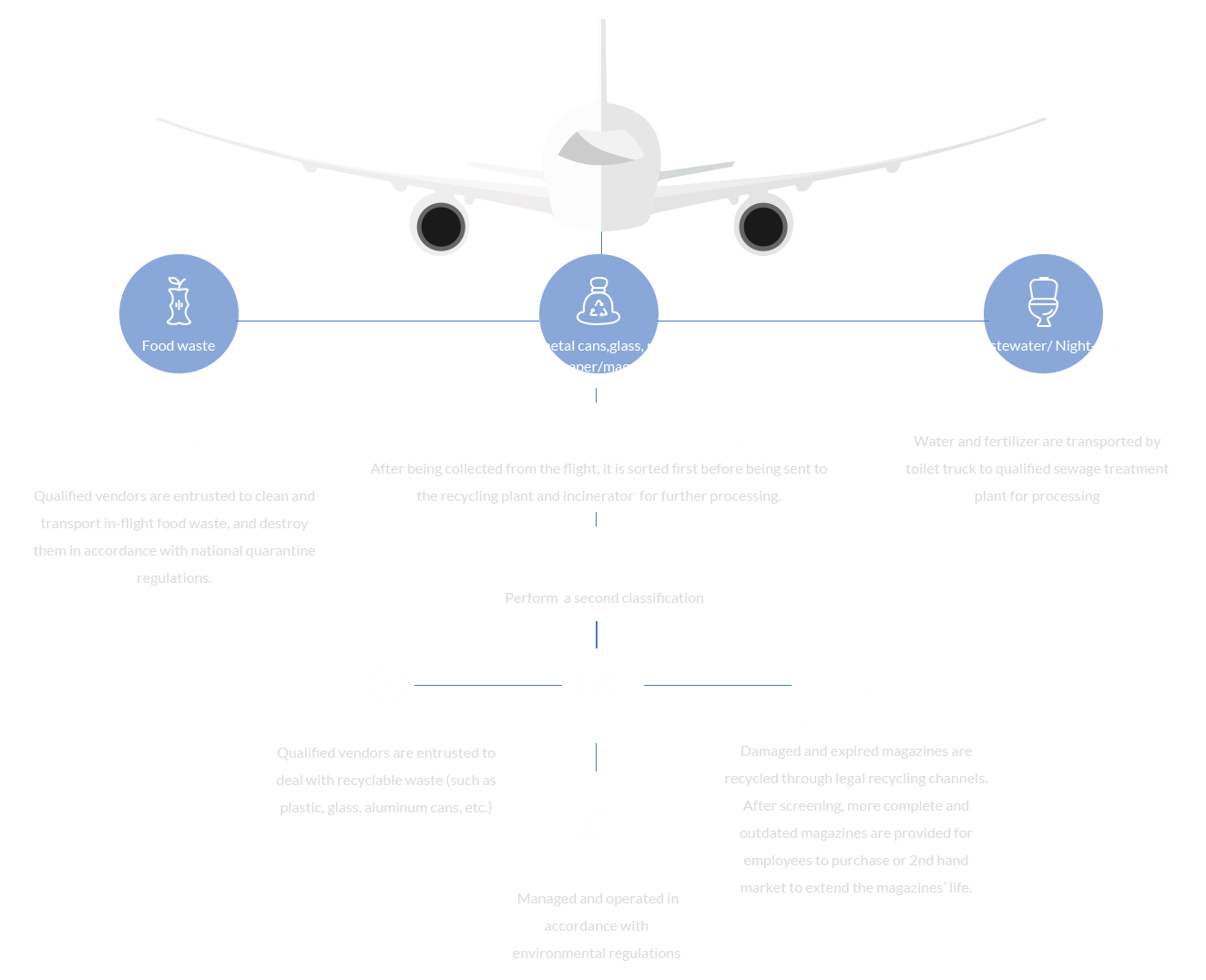 Onboard Service
Reduce Fuel Consumption and Carbon Emission

CAL is committed to promoting mobile and electronic service processes, reducing paper and aircraft load, and providing lightweight and environmentally friendly services on board, such as portable headsets, environmental friendly head cushions and pillow case to reduce fuel consumption and carbon emissions.
Environment Conservation

CAL aims to reduce the use of plastic raw materials, and provides environmentally friendly paper towels as well as promotes the onboard digital magazines - Dynasty Sky Reading to conserve precious rain forests and virgin forests.
Reduce Carbon Footprint

CAL uses local food ingredients as the first priority to support Taiwan and local agricultural industry in the world. Not only the food delivery journey is shortened and the carbon footprint is also reduced.
Promote the Awareness of Environmental Protection

Through promoting diverse actions such as providing onboard environmental video broadcast options, environmental slogan printed packaging, eco shopping and invitation for shutting window blinds during the summer season, CAL actively facilitates and promotes green consumption and environmental awareness among the passengers. CAL also communicates the corporate concept and performance of environmental protection with stakeholders through official website and social media in hopes of creating and spreading the awareness of sustainability.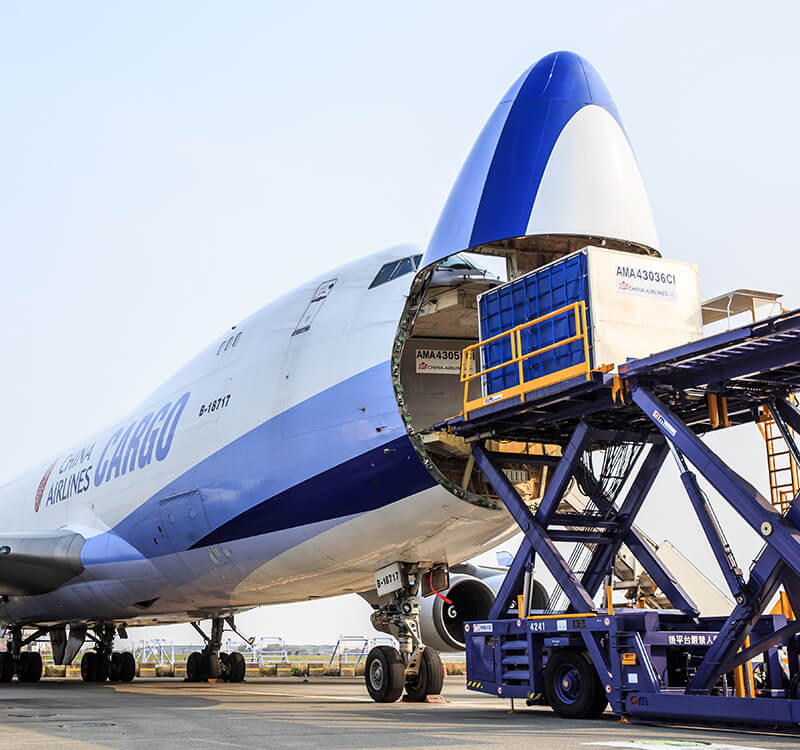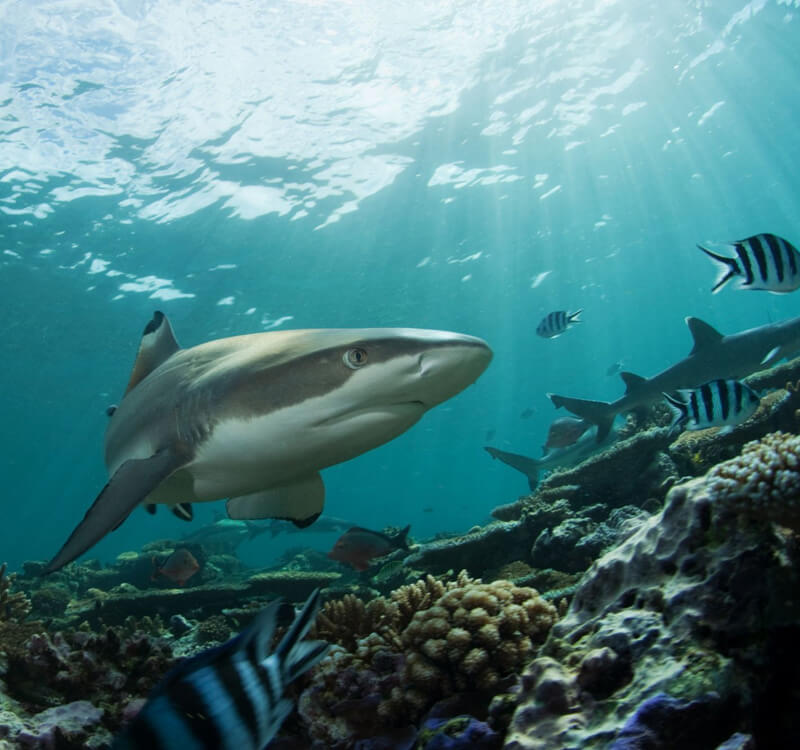 Implement Conservation Policies
CAL recognizes that forest and biodiversity conservation contribute to climate stability and the sustainability of agriculture, food, public health, and economics. Moreover, they are key foundations for building global climate and environmental resilience. CAL has implemented the transportation policy of embargoing shark fins and experimental primates, has prohibited the use of protected species as food ingredients in the Groups' service, has signed the United for Wildlife Transport Taskforce Buckingham Palace Declaration , and also has pledged to lead the Group and supply chain partners to jointly promote the operation of No Net Loss of biodiversity and Zero Deforestation through responsible procurement and supplier management practices. With continuous implementation of CAL's " Sustainable Development Best Practice Principles ", " Environmental and Energy Policy Statement ", " Sustainable Supply Chain Management Policy Statement ", " Supplier Code of Conduct ", and " Forest and Biodiversity Conservation Commitment ", we aim to achieve the United Nations Sustainable Development Goals and combat global illegal wildlife trade.

Actions for the Earth